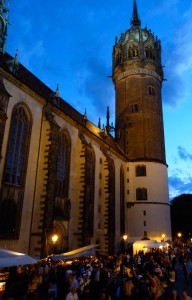 The Wittenberg English Ministry (WEM) offers visitors to Lutherstadt (Luther Town) Wittenberg English-speaking worship opportunities at the Castle Church and Town Church where, in the 1500's, The Great Reformer, Dr. Martin Luther preached.
A special program of Worship in the English language provides spiritual fulfillment for the many thousands English-speaking tourists who visit Lutherstadt Wittenberg from all parts of the world. WEM, initiated in 1997, today spans the entire six month tourist season, May through October.
Join us to sing hymns of faith, pray, hear the Word of God, and to give thanks for the spiritual blessings Christians have received through the Reformation of the Church thanks to Martin Luther and his colleagues. Each service includes the opportunity to sing Luther's famous Ein Feste Burg Ist Unser Gott (A Mighty Fortress Is Our God) accompanied by the great pipe organs of the churches. Lutheran Pastors lead the worship and offer the sermon. All texts are in English, and hymns are representative of the standard Protestant repertoire.
WEM weekday worship services in 2017 began on Wednesday, April 19. A traditional English worship service is presented on Saturday evenings, at 5:00 p.m., and held at either the Castle Church (Schlosskirche) where Martin Luther posted his 95 Theses or at the Town Church of St. Mary's (Stadtkirche St. Marien) where Luther preached more than 2,000 times.
Tour groups are invited to arrange with WEM for special services which may be conducted on other days and times as well. Contact the Wittenberg Information Center (across the street from the Castle Church) in advance to schedule a service or to ask for other information: Tour groups are invited to arrange with WEM for special services which may be conducted on other days and times as well. Contact the Wittenberg Information Center (across the street from the Castle Church) in advance to schedule a service or to ask for other information: info@lutherstadt-wittenberg.de