The Wittenberg English Ministry (WEM) was conceived in the summer of 1996, when the Rev. Keith Loesch studied in Lutherstadt Wittenberg, Germany, for two months as part of a sabbatical experience provided by his congregation in Woodbridge, Virginia. During his stay, Pastor Loesch was asked by the Lord Mayor Eckhard Naumann and other town officials and local pastors and church leaders, to initiate a worship and outreach ministry in English at the historic Castle and Town Churches associated with The Great Reformer, Dr. Martin Luther. It was envisioned that this ministry would serve the hundreds of thousands of tourists who visit Wittenberg annually and continue as a worship ministry for years to come.
In 1997 five Lutheran pastors from the USA conducted a ten-week series of English worship services on Saturday evenings during the summer months from June to August. The worship program was expanded in 1998 to cover the six-month tourist season, May through October. In the ensuing years, afternoon chapel services on Wednesday, Thursday and Friday were introduced. This worship schedule continues to the present day.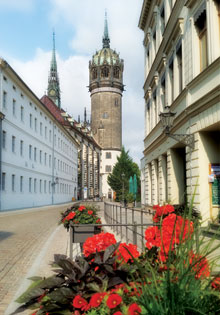 Even under trying conditions affecting the tourist season WEM has conducted the English-Speaking services every year since its founding. Among the stressful events have been the September 11, 2001 attack on America, the Great Flood on the Elbe River in 2002, the unprecedented European drought in 2003, and the generally poor world economic conditions beginning in 2007. All have had a negative impact on Lutherstadt Wittenberg, as well as on the number of visitors coming to visit the Luther sites.
Nonetheless, our onsite Deputy Directors coupled with the regular rotation of pastors, provide a continuing worship ministry that has been an ongoing source of spiritual enrichment, comfort and joy to both the residents of Wittenberg and the tourists who come to visit their spiritual roots.
Since its beginning, more than 200 Lutheran pastors from the USA, Canada and Australia have served in this ministry and received the benefit of this experience, interacting and leading worship for people visiting Wittenberg from literally every part of the world. Moreover, these pastors are drawn from all the Lutheran bodies in the USA, Canada, and Australia.
The people at the services represent a very broad spectrum of the Body of Christ. Visitors continue to come from a multitude of Christian backgrounds and from six continents, all of them wanting to connect their faith in Jesus Christ with their heritage of the Reformation. In short, this is a Lutheran ministry intent on serving the Body of Christ. We seek to enable people to worship Christ and honor Luther, and to do so in such a way that people from every Christian background, can worship God in Luther's church.
"The blessing of the Reformation is the return of a distracted church to the truth of Christianity that eternal salvation is a free gift of God's grace, through faith in Christ our Lord."
– Dr. Jerry Kieschnick